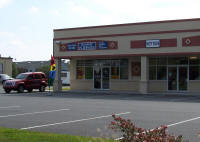 Business Hours
Monday - Friday 10am to 6pm
Saturday 10am to 4ish
Closed - Sunday
(302) 226-5424


Delaware PC Services, LLC Best computer, PC and MAC repairs in Delaware, located at 20660 Coastal Hwy Rehoboth Beach Delaware in the Sea Coast Center, Always FREE Evaluation No Appointment Necessary. Open 6 days a week. Virus and Spyware Removal only $89.99.

Used/Refurbished Laptops
Note: all systems are fully tested and warranted by Delaware PC Services, LLC. each system has been fully tested and cleanly reloaded with their respective licensed operating system; no additional software has been reloaded. Each system carries a 90 day parts and labor warranty against defects or hardware failure. Prices listed are not based on system value, most are listed way below actual value. We list used systems for what we put into them or cost of trade-in given for each system. This way we can offer great computers at a very low cost to our customers.
| | | |
| --- | --- | --- |
| | HP Pavilion x360 15.6" Touch Screen, i3-7100 2.4GHz 7th Gen, 8GB Memory, 1TB HD $225 | |

HP Pavilion x360 15-bk163dx
15.6" Touch Screen / Flip Screen
Intel i3-7100 2.4GHz Processor 7th Gen
8GB DDR3L Memory
1TB Hard Drive
Intel HD Graphics 620
Intel Dual Band AC Wireless 3168
Intel Bluetooth 4.2
Realtek PCIe GBE Ethernet
Realtek Hi-Def Audio
Ports: Ethernet, HDMI, 2 x USB 3.1, 1 x USB 2.0, Headphone Out, Multi SD Card Reader
Windows 10 Home 64Bit
Power Cord

<![if pub11]>

---

Laminated Cheat Sheets
Office 2013, 2016, & 2019 Essentials, also Windows 8, Windows 10
* Warranty: all laptops & computers offered for sale are fully functional and have been thoroughly tested. Most come with a 90 day parts and labor warranty which includes hardware failure only, software, after market software, damage to system other than normal wear and tear and/or virus infection is not covered under any warranty implied or otherwise. The warranty coverage is solely up to Delaware PC Services, LLC. engineering staff if issues are covered by the 90 day warranty. Outside individuals, companies, vendors, and/or technicians' opinions and/or evaluations do not determine warranty coverage. Opening and/or dismantling the system may void any type of warranty coverage implied or otherwise.

** Unknown Battery Life: battery life is determined by, but not limited to, age, care of the battery - charging, and overall us of the system while running on battery power. For example, watching DVD movies while using the battery will diminish the time the battery will last on one charge. While most people will use the system for internet and email access, running programs and available memory will also play a role in battery life as well. So, deterring actual battery life is based on many factor and can not be determined easily.
| | |
| --- | --- |
| | |
Note: All software and/or Hardware are non returnable. The non-returnable policy is set in place by the manufacturer and covers all software sold by Delaware PC Services, LLC. - this policy includes, but not limited to; Licensing obtained from the manufacturer and installed by Delaware PC Services, LLC.
* special order items, such as computers - may hold a 15% restocking fee. Ask for Details.