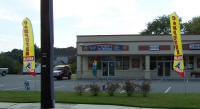 Business Hours
Monday - Friday 10am to 6pm
Saturday 10am to 4ish
Closed - Sunday
(302) 226-5424


Delaware PC Services, LLC Best computer, PC and MAC repairs in Delaware, located at 20660 Coastal Hwy Rehoboth Beach Delaware in the Sea Coast Center, Always FREE Evaluation No Appointment Necessary. Open 6 days a week. Virus and Spyware Removal only $89.99.

Generic and Name Brand in stock, when available
(too many to list/display - Pricing may vary)
-> Adapter by laptop make, there is No such thing <-

If you call to see if we have your particular adapter in stock, we will ask you for:
(3) Very Important pieces of information!!
1. Manufacturer (Dell, HP, Apple, ASUS, etc.)
2. Model Number of your laptop, all systems have them even Apple
3. the Wattage of the adapter you require <-----
* you must know the exact wattage required to power the system and charge the battery or JUST BRING IT IN WITH YOU....easy, to make you get the right one.

Most information is located on the bottom of the laptop and/or under the battery of the system (if removable)
Always bring in the Laptop so we can make sure we
have the right adapter and that it charges the battery..
| | | |
| --- | --- | --- |
| | Dell | |

| | | |
| --- | --- | --- |
| | New Dell | |

| | | |
| --- | --- | --- |
| | Dell USB C Type | |
| | | |
| --- | --- | --- |
| | Newer HP | |

| | | |
| --- | --- | --- |
| | HP/Compaq | |

| | | |
| --- | --- | --- |
| | HP Dell Converters | |



| | | |
| --- | --- | --- |
| | Apple Magsafe | |

| | | |
| --- | --- | --- |
| | Apple Magsafe2 | |

| | | |
| --- | --- | --- |
| | Apple USB-C Type | |



| | | |
| --- | --- | --- |
| | Surface | |

| | | |
| --- | --- | --- |
| | Surface Pro | |

| | | |
| --- | --- | --- |
| | Lenovo / IBM | |




| | | |
| --- | --- | --- |
| | HP EliteBook 84XX Series Battery | |

| | | |
| --- | --- | --- |
| | Toshiba PA3534U-1BRS Battery | |

| | | |
| --- | --- | --- |
| | HP Envy 807957-001 HS03 Battery | |

HP EliteBook 8460P, 8460W, 8560P, 8470P, 8470W 6Cell

#1146




Toshiba PA3534U-1BRS PABAS098 A205 Btry

#2448



HP 807957-001 HS03 HS03031-CL HS04 HS04041-CL HSTNN-LB6U HSTNN-LB6V

#2309
| | | |
| --- | --- | --- |
| | HP Envy 15Z-J000 15 Battery | |

| | | |
| --- | --- | --- |
| | HP Pavilion DV6 DV7 Series Battery | |

| | | |
| --- | --- | --- |
| | Dell Latitude E6420 Battery | |

HP Envy 15Z-J000 15Z-J100 17T-J000 17T-J100 709988-541 H6L38AA#ABB

#2029




HP Pavilion DV7-7000 DV7-7099 671731-001 672326-421 671567-831 MO06

#2310




Dell Latitude E6420 9Cell

#2443
| | | |
| --- | --- | --- |
| | HP Pavilion X360 Battery | |

| | | |
| --- | --- | --- |
| | Sony VGP-BPS34 Notebook Battery | |

| | | |
| --- | --- | --- |
| | HP Pavilion dv5, dv5, dv4 Series Battery | |



HP BI03XL 843537-421Battery

#3271


VGP-BPS34 Notebook Battery Fit 15 Touch SVF15A1ACXB SVF15A1ACXS Laptop

#3636

DV4 DV5 DV6-1000 CQ40 CQ60 CQ61 484170-001 HSTNN-LB72 Battery

#3132
| | | |
| --- | --- | --- |
| | Gateway NV5X Series Battery | |

| | | |
| --- | --- | --- |
| | Dell Vostro 13xx, 15xx Series Battery | |

6 Cell Battery for Gateway NV52 NV53 NV54 NV56 NV58 NV59 AS09A6

#2277

6 Cell Laptop Battery for Dell Vostro 1310 1320 1510 1520 2510 Series T116C

#1059


| | |
| --- | --- |
| | |